Featured artwork from Gallagher Middle School: "Overlapping Flowers" by Reese Gaffney, Grade 8 and "Overlapping Sweets" by Keana Blakely, Grade 8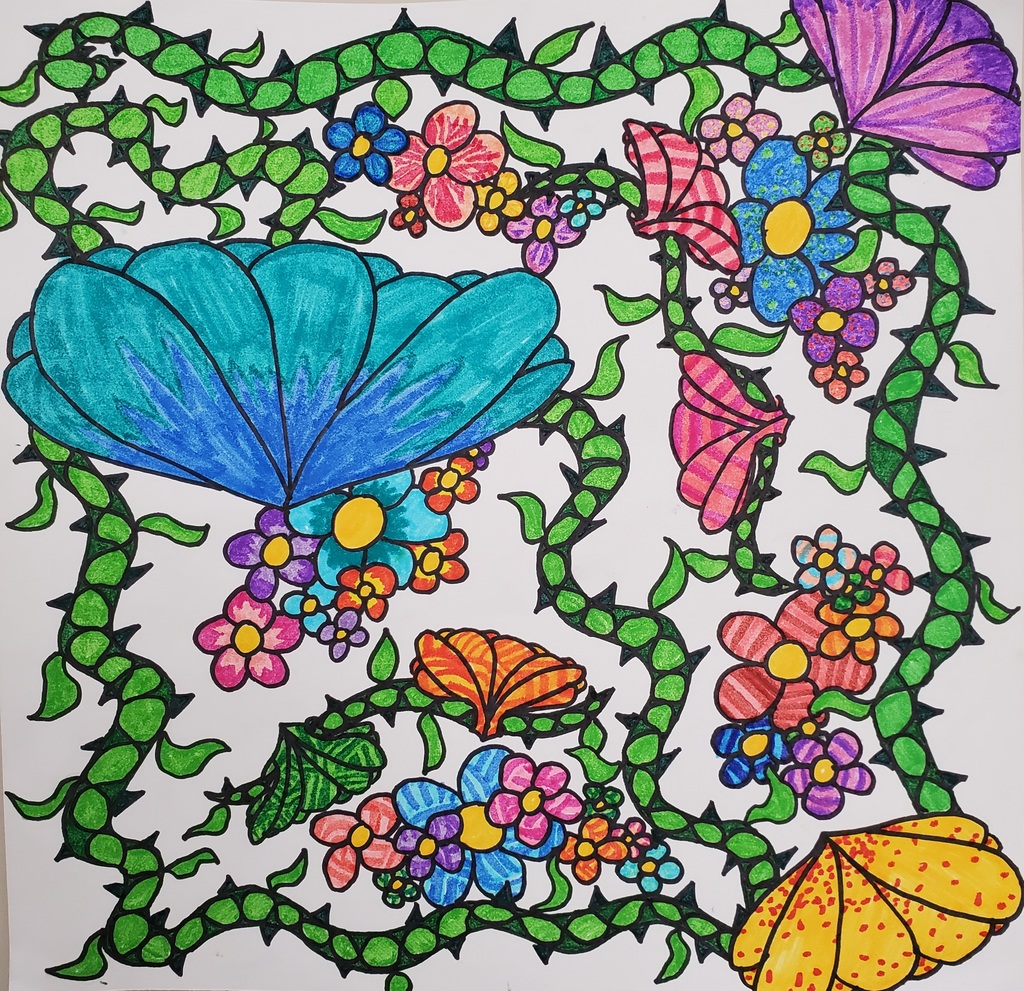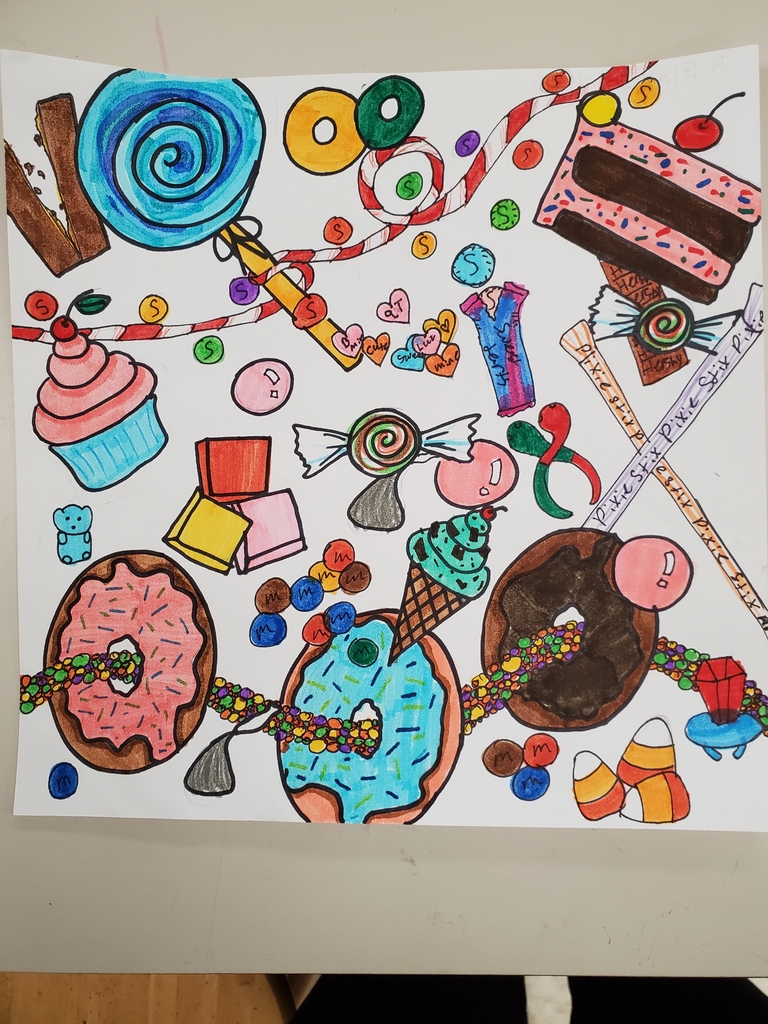 SMITHFIELD SNOWSTORM - The Smithfield Youth Council is hosting a winter activity for our community. Please joint them by hanging up snowflakes around the town between December 1st and February break.

Smithfield's All-Lit-Up Parade is this Saturday, December 4th, at 4pm. The parade begins at SHS and ends at the Village Green. See their Facebook page for more details. Let's all get in the spirit!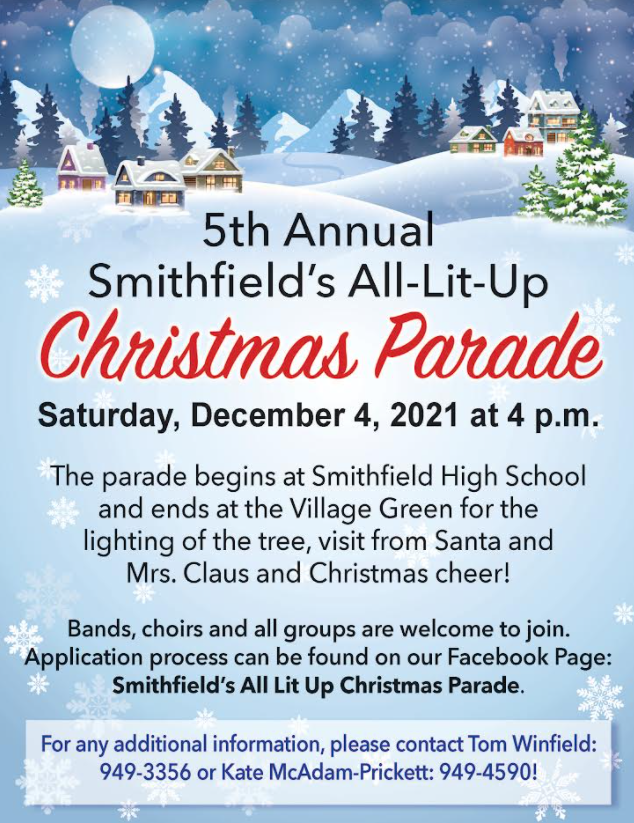 Artist spotlight on 2009 SHS graduate Colby Charpentier presenting artwork during his residency in California. Congratulations Colby!
https://youtu.be/rXefMZVqvLc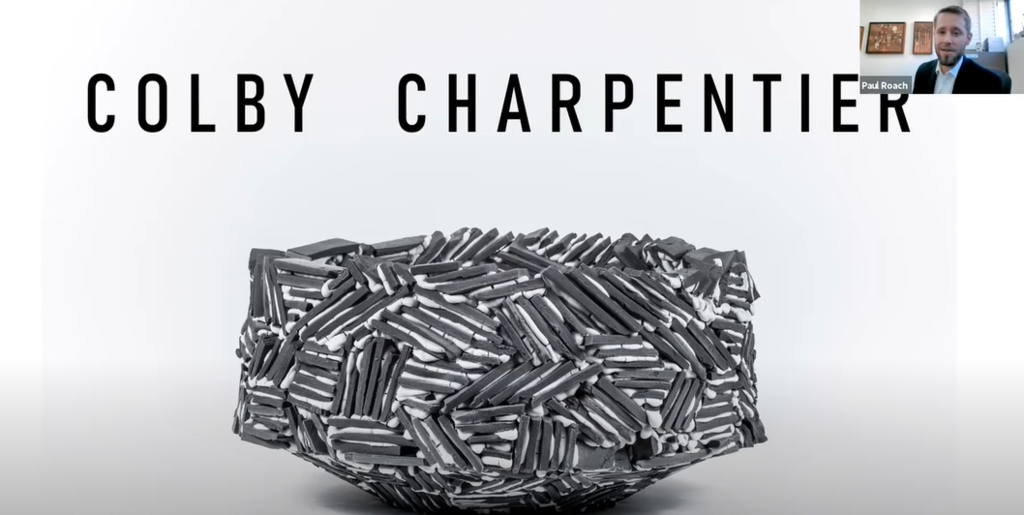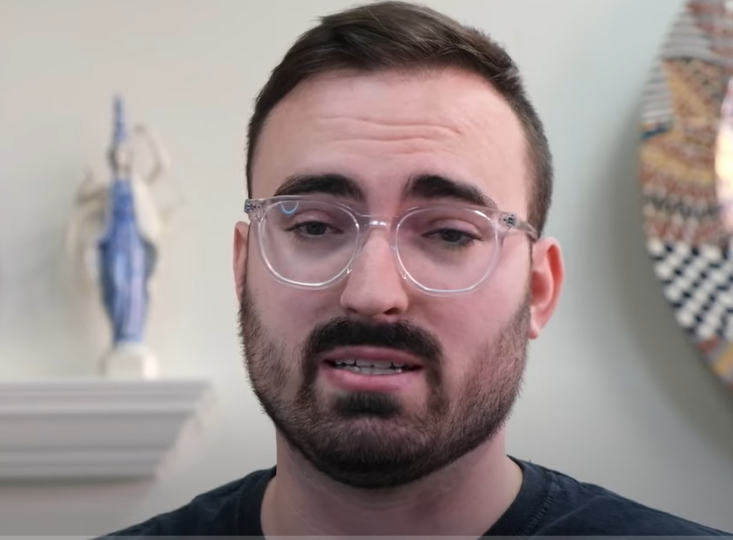 The Smithfield Schools District newsletter for December is available online and through this link:
https://bit.ly/3FTWwHN

Happy Hanukkah to all members of our community who celebrate this festival of lights. Wishing all a season of peace and joy!



One of the first goals of the Arts Task Force is to showcase the visual and performing arts in Smithfield. Check out these works of art from some of our middle school students. Batik on Fabric by grade 8 artist, Sydney Briggs, and plaster sculptures by grade 7 artists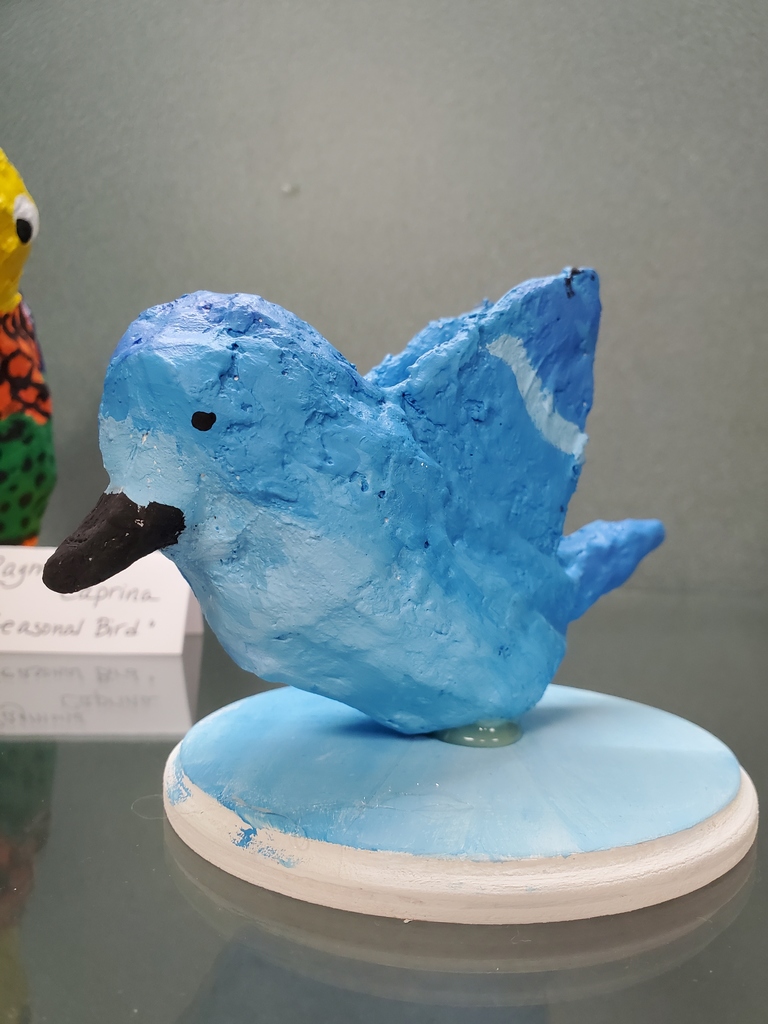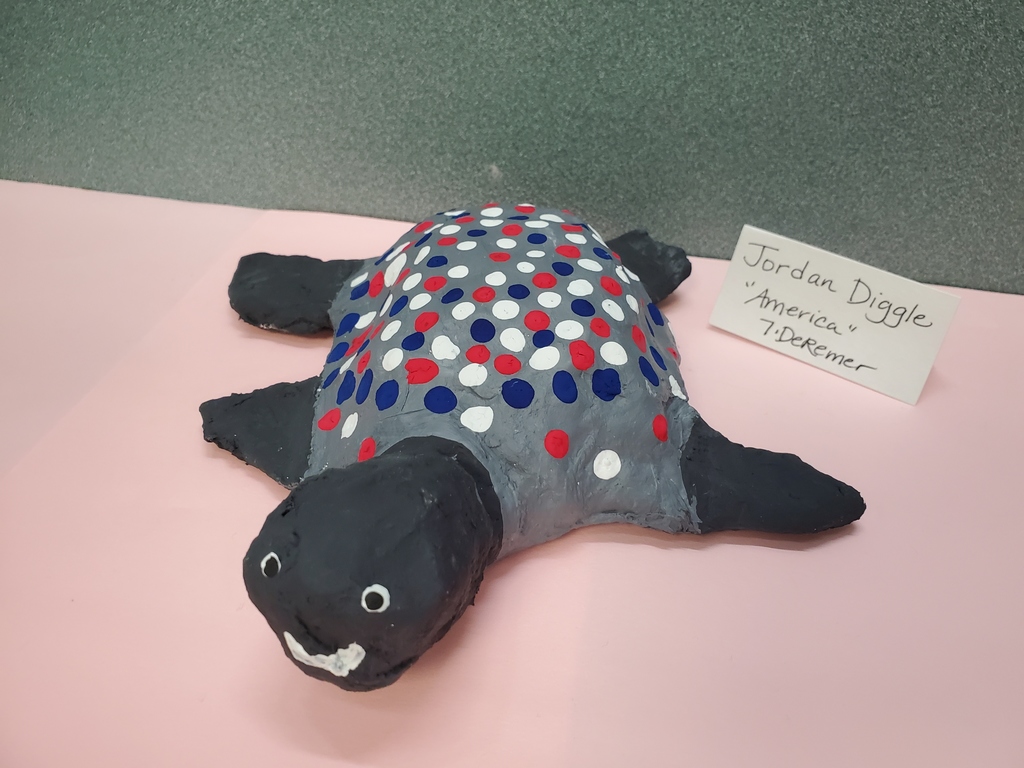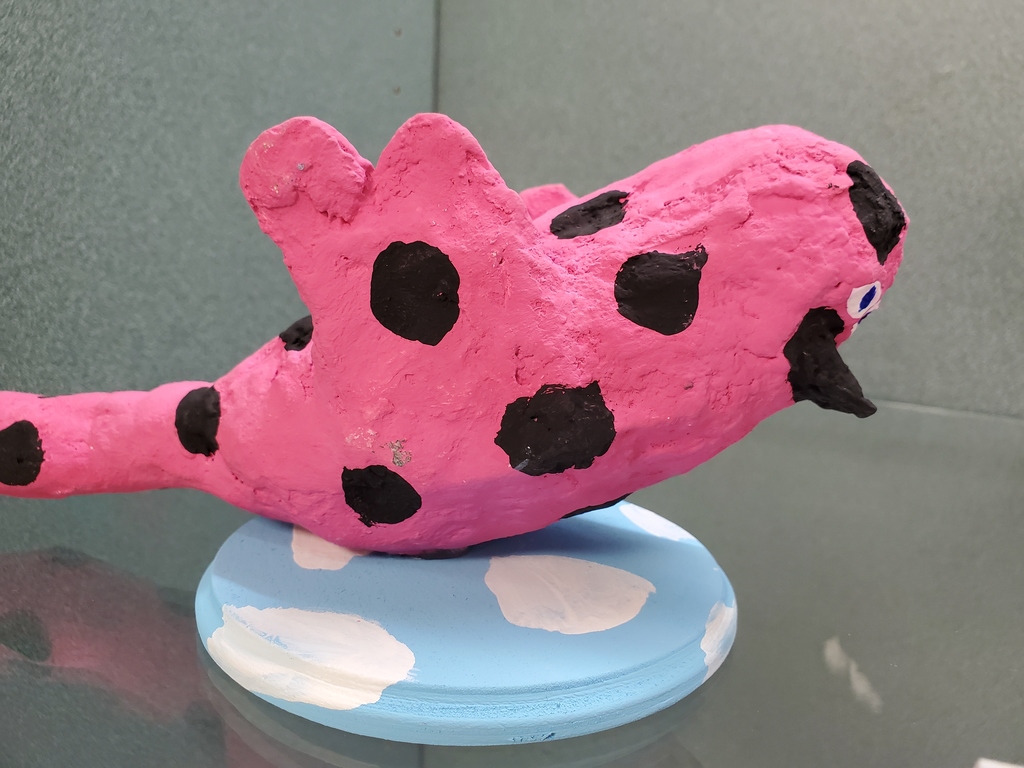 You may have heard the news that Smithfield's school bus drivers have authorized a strike. The bus drivers have been in negotiations with Durham Transportation Services and have not yet reached an agreement. While the vote to authorize a strike is necessary before an actual work stoppage, it does not necessarily mean that a strike is imminent. Both sides continue to participate in negotiations, facilitated by a federal mediator. The bus drivers that serve Smithfield Schools are our parents, our neighbors, and a valuable asset to our school district. We are hopeful that a fair agreement can be reached through these ongoing negotiations. Should negotiation sessions not proceed in a productive manner and a strike does occur, we will be prompt in our communications with you. While alternate mass transportation options are nonexistent, we are exploring opportunities for flexible expectations for attendance and parent pick ups and drop offs. For a news account of the issue, see this link:
https://bit.ly/31FHjuZ

Principal Julie Dorsey, Teacher Torie Caldarone, and Superintendent Judy Paolucci attended an awards ceremony in Washington DC for LaPerche's recognition as a Blue Ribbon School. The event included greetings by the US Secretary of Education, Miguel Cardona, networking with other award-winning educators, and hearing from the 2021 Teacher of the Year, Juliana Urtubey, who focused on efforts for a just and joyful education for all students.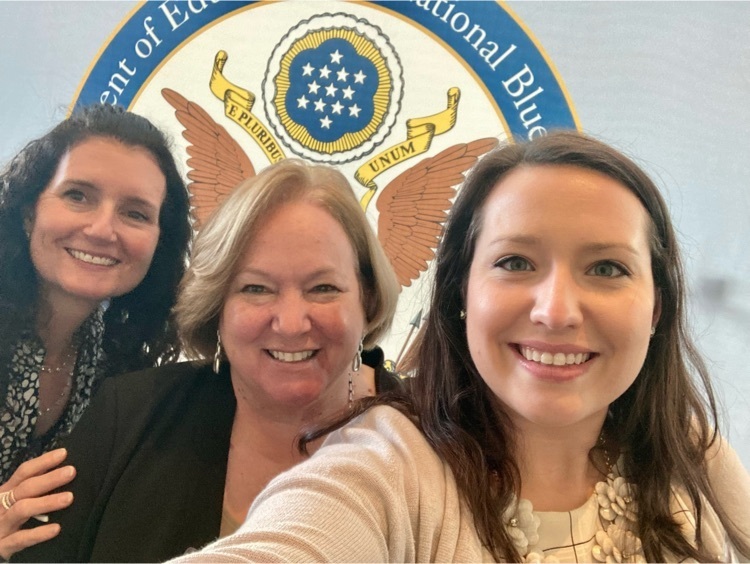 LaPerche Elementary's Cafeteria Rangers show off their recycling knowledge and explain the school's pilot program for reducing food waste, recycling, and composting. Go Green Team!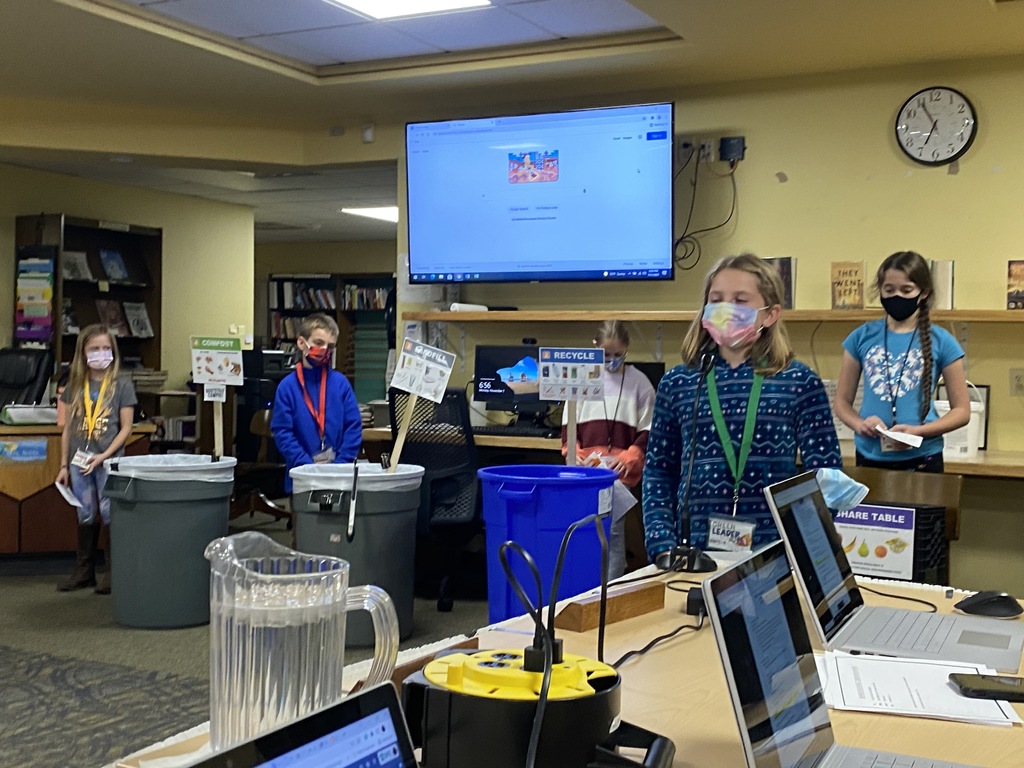 Smithfield elementary school shines amid RI's test-score gloom - Linda Borg's article in the Providence Journal highlights OCRS, which showed improvements in both math and ELA. All Smithfield elementary schools improved on the mathematics assessment. Great job Smithfield administrators, teachers, staff and students!
https://bit.ly/3GElXOu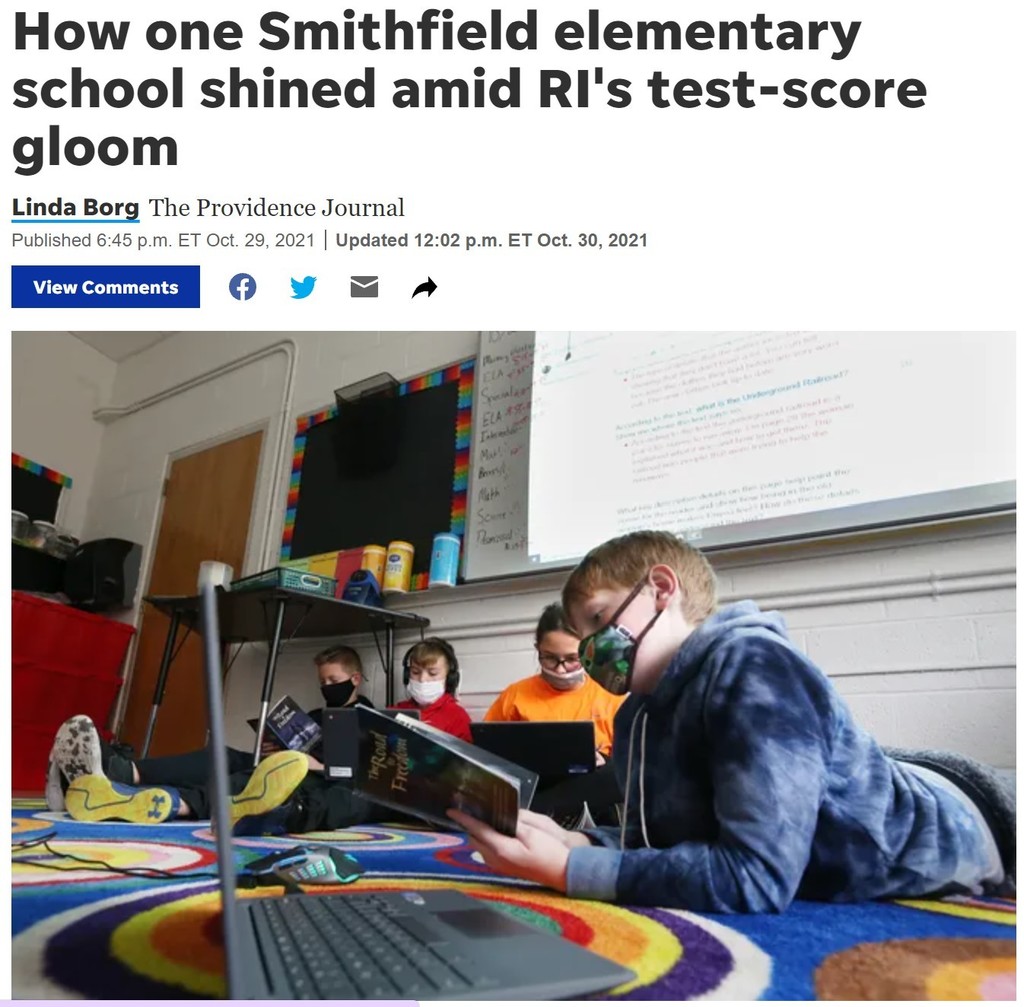 Smithfield's November District Newsletter is available on the link below. Great things are happening in Smithfield!
https://we.tl/t-GzzrwlJpUr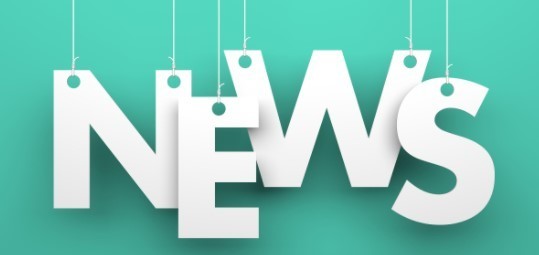 Join us for the ribbon cutting ceremonies tomorrow! Please park in the side parking lots at each school leaving the front loops clear for the ceremonies.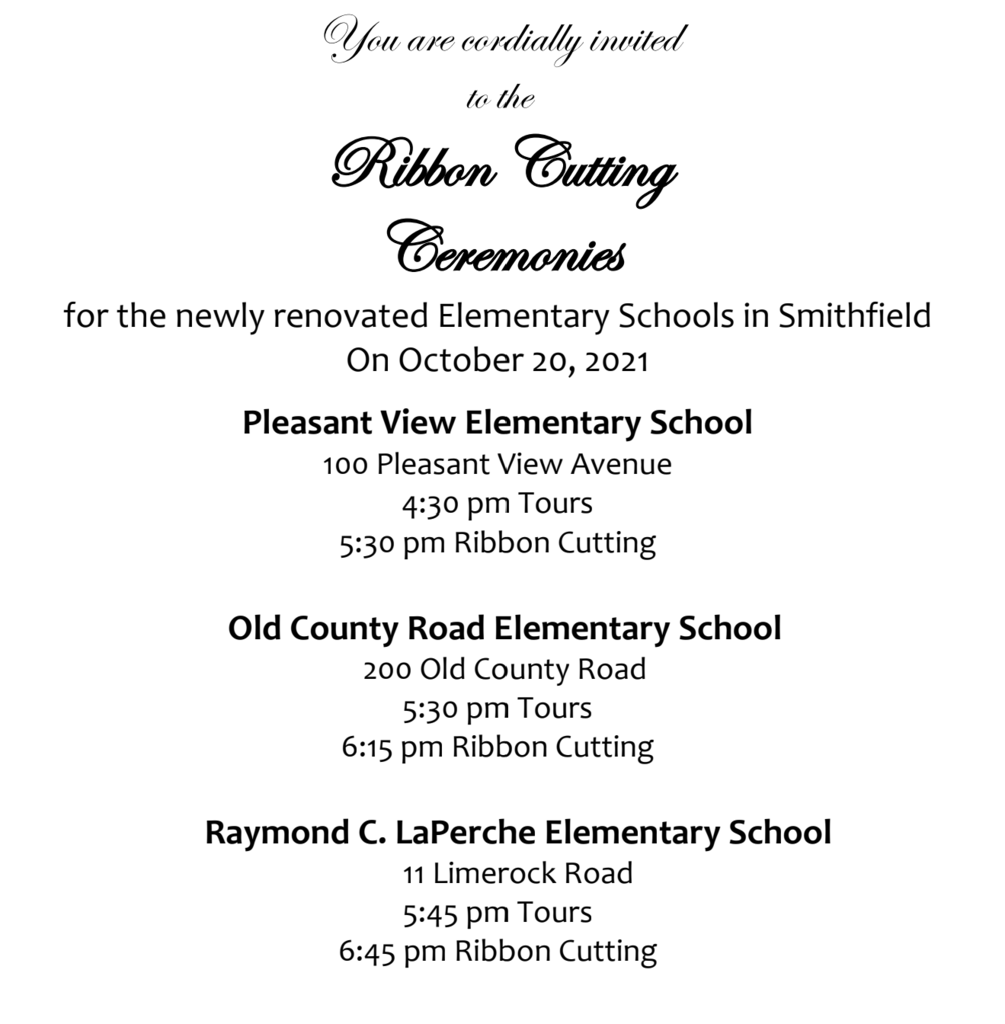 At today's ATeam meeting, Smithfield administrators explored the many ways data can be displayed to better communicate with the school community.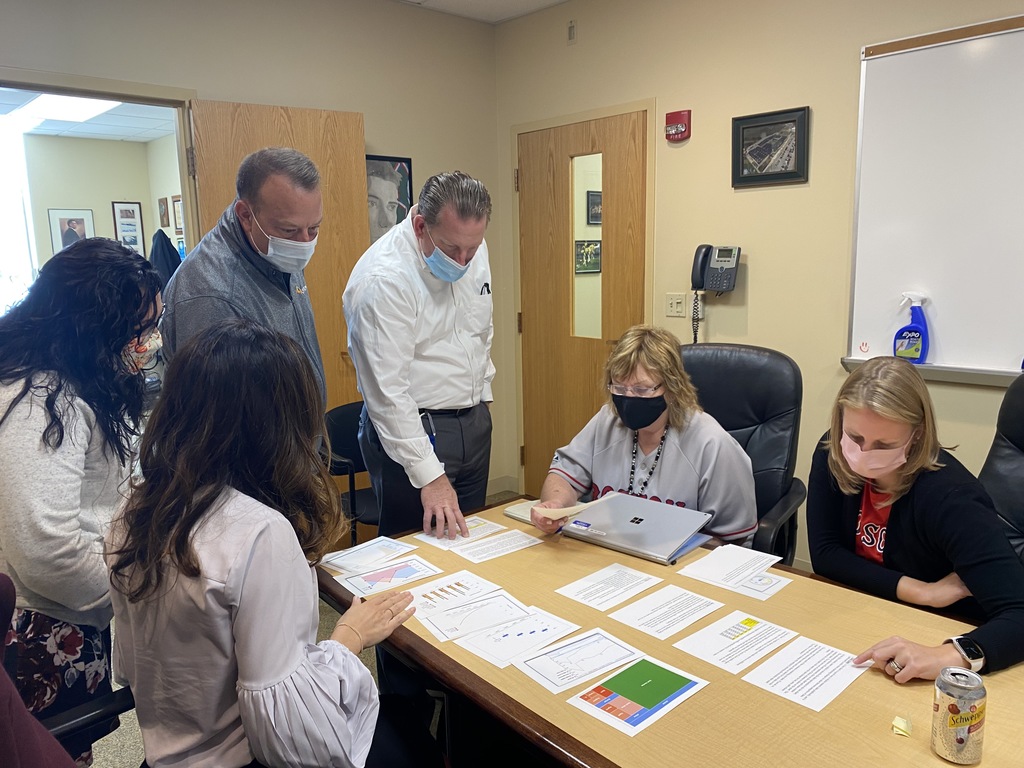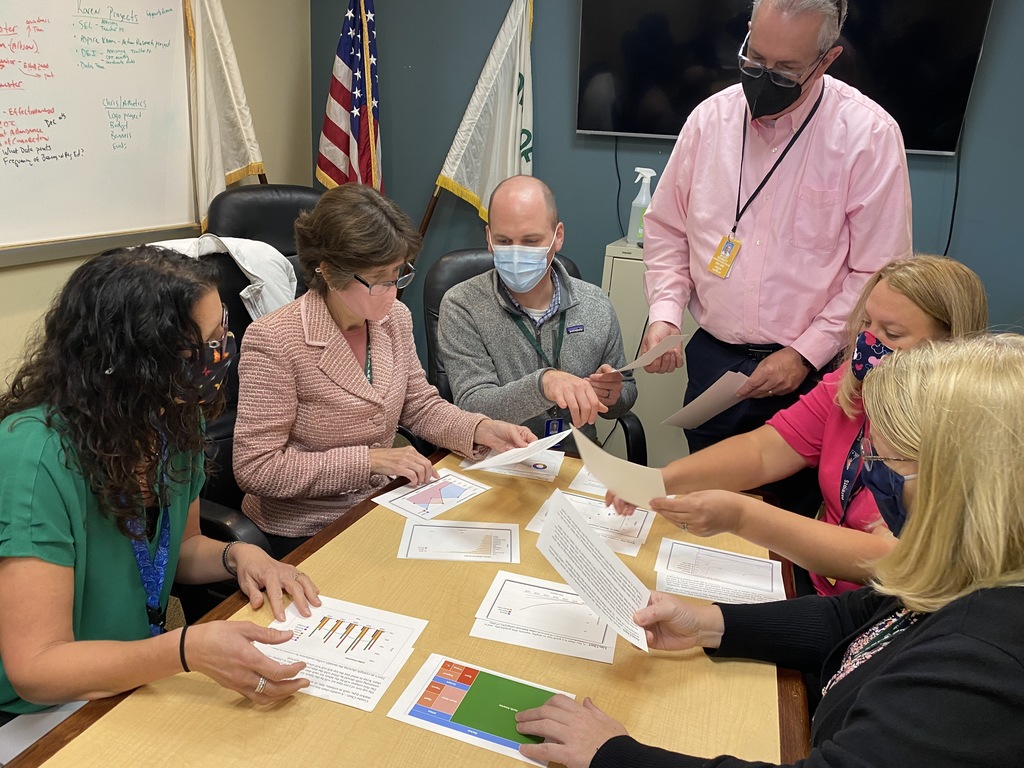 The Town of Smithfield will be hosting a Pfizer BioNTech Vaccine Third Dose Clinic on Thursday, October 21st from 3pm to 7pm at the Smithfield Senior Center for individuals who have (1) received Pfizer vaccine at least six months ago AND (2) meet the CDC guidelines (
https://www.cdc.gov/coronavirus/2019-ncov/vaccines/booster-shot.html
) for a third dose of Pfizer vaccine. In addition, if you are 16 years of age and older or are 12 to 15 years of age with parental consent and have not yet received your first dose of COVID19 vaccine and would like to receive Pfizer, you may also sign up for this clinic. The Pfizer vaccine is a two-dose series for everyone. Volunteers will be available at the clinic to assist in scheduling a second dose within three weeks. Pre-registration is required for vaccinations. Please follow the link below to sign-up for the October 21st clinic:
https://www.vaccinateri.org/appointment/en/reg/5911650912
***This third dose opportunity is for those residents who were administered Pfizer vaccine.*** If you were administered Moderna COVID19 Vaccine, information will be available soon on third doses in the very near future. Please check back soon for more information on third doses and Moderna.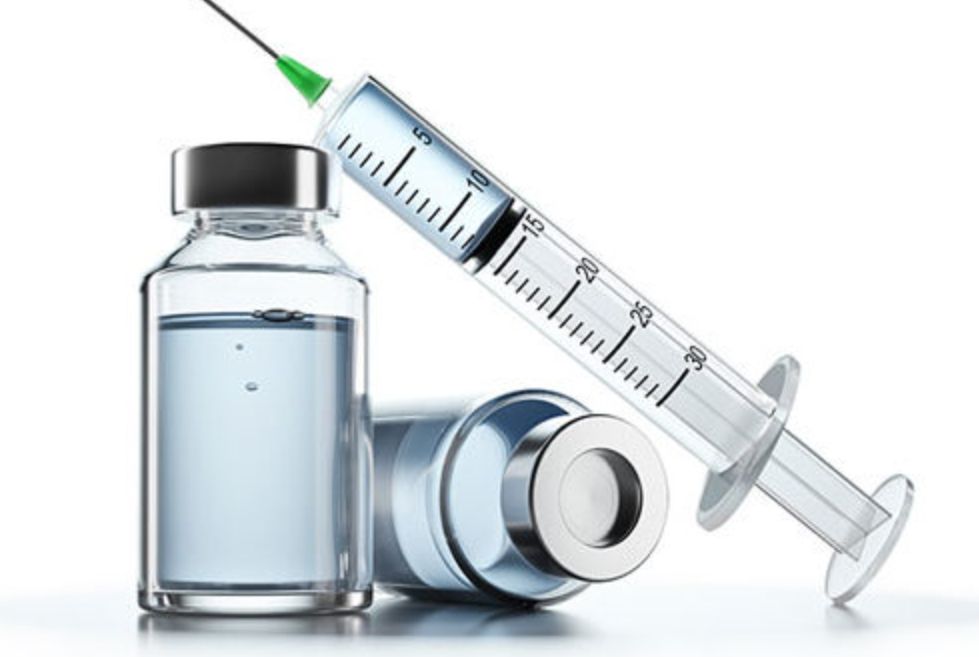 Apple Trails is a fun hunting adventure encouraging visitors to explore Smithfield's apple orchards and scenic walking trails. The Economic Development Commission, in partnership with the Land Trust and Conservation Commissions, will hide 91 glass apples (30 red, 30 yellow, 30 green, and 1 clear) randomly at apple orchards and conservation walking trails beginning on October 15th. Walking Trails: Mowry Conservation Area, Mercer Lookout, Wolf Hill Forest Preserve, Olivia's Forest Apple Orchards: Jaswell's Farm, Appleland Orchard, Leach Farm and Orchard Rules: Only 1 apple per seeker (leave any second apple found where you found it). Register any apple on the Smithfield Economic Development Commission's Facebook page.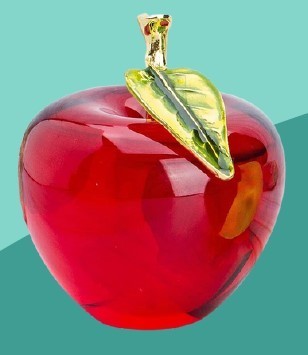 Please join us for a community workshop focused on supporting the needs of youth who identify as LGBTQ+. The virtual workshop will be held on October 13th from 6:00-7:00 PM and will be facilitated by Dr. Will Giordano-Perez, Medical Director of Tri-County Community Action Agency specializing in LGBTQ+ care and Clinical Assistant Professor of Family Medicine at Alpert Medical School of Brown University. Register for the event using this link (
https://forms.gle/ZFSzQVGTvVpZ2ras5
) to receive a Zoom link the week of the event. Thank you to Tri-County Community Action Agency for sponsoring this event!

Smithfield's Stand for Inclusivity The Smithfield Youth Council wants YOU to help paint a mural that represents inclusivity for all. Stop by to add your handprint and help paint words of inclusion. (Gloves and paint will be provided) Sunday, October 17th, 11am-4pm Park in the gravel lot on Farnum Pike/Rt 104 and Rt 116. Take the Stillwater Scenic Trail. The painting will be set up under the George Washington Highway bridge.


Walk for Diversity, Equity and Inclusion Deerfield Park to Smithfield High School Monday, October 11, 2021 10:45 a.m. - 12:00 p.m. Join members of the Smithfield Anti-Hate Coalition (SAHC) and the larger Smithfield community for a Walk for Diversity, Equity and Inclusion! We will gather at the Deerfield basketball courts at 10:45 a.m. Walk begins at 11. We will walk past the soccer fields, up Deerfield Dr., along Pleasant View Ave and end at the SHS bleachers at the track. Please Note: NO parking for this event at SHS Signs with positive words and messages related to Diversity, Equity and Inclusion and other Social Justice issues are encouraged and welcomed! We will assemble on the bleachers and have an open mic where people can speak - in a positive way - about what diversity, equity and inclusion (DEI) means to them, their vision for Smithfield as it relates to DEI, and/or remarks on social justice issues. Sponsored by the Smithfield Anti-Hate Coalition